Description
$649.00
Profi Seat – SFI 45.2 Certified Material
SCHROTH Racing Profi Seat kit uses a vacuum casting bag with a unique bead and quick cure resin
making it a simple, easy to use and professional system to fit any driver into any race car or seat. The
SCHROTH Racing Profi Seat kit provides the driver an "individual" seating solution for the optimum racing
position, improved performance and driver safety.
The bead and water based quick-cure system is SFI 45.2 certified (SFI 45.2 specification for impact
padding material). The Profi Seat is designed (per the standard) to absorb multiple impacts and
maintains its proven level of protection. The Profi Seat is also self-extinguishing in the rare event of a fire.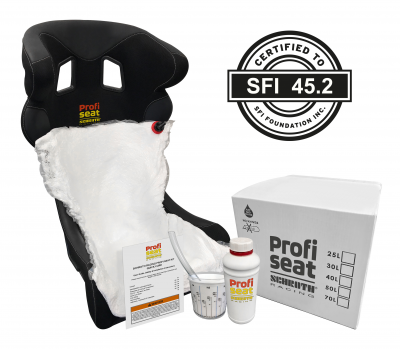 Add to cart
Description
The SCHROTH Profi Seat is the perfect DIY solution to generate a more comfortable & more safe seating position in your car, vehicle, etc.. No current standard padding in a Racing seat shell will provide you this perfect seating.
This product can be used for every purpose where you need a perfect, stable and safe seating position.
The kit is certified to SFI 45.2 Standards.
Products and sizes available from stock :
77530A – 30L Kit – Ideally suits – tight cockpits or a liner / insert inside a seat shell or extractable seat.
Applications: F1, GP2, Touring Car, LMP, Formula Ford, WSR, F3 & Historic cockpits
with bigger drivers.
77550A – 50L Kit – Ideally suits – The Most Popular Single Seater Application, such as: Sprintcars, Wingless, Late Modles, F500, Formula Renault,
F2, F3, World Series Renault plus LMP & also has been used for smaller
drivers (and we mean SMALL!) in seat shells such as Supercars, GT, Touring Cars & some
extractable seats.
77570A – 70L Kit – Ideally suits – like a 50 Litre to be a standalone seat in open cockpits such as:
Caterhams, Radical, Sports 2000 & also has been used for small drivers in Formula
Renault, F2,F3, IRL, Indy Lights & Super Formula.
PRICING STARTS AT $649 FOR THE 30Ltr KIT.
30 L kit $649.00  50 L kit $849.00   70L kit $999.00……….. FREIGHT WILL DIFFER DEPENDING ON SIZE OF KIT !!!……… and can be quoted at time of purchase please call for details.
https://www.dropbox.com/sh/r84s9o6fgg2oms8/AABafhku4b6aY1P4oKcaNBNma/Images/Video?dl=0