Description
$249.95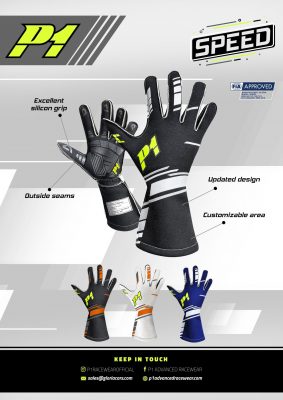 Add to cart
Description
All new for 2022 is the P1 Speed glove fully conforming and approved to the new higher FIA 8856-2018 standards.
Black white from stock all other colours to order in once you confirm your sizing.
P1 Speed Gloves
Developed by world class race and rally drivers, this is the latest glove to join the P1 racewear range – all new for 2022 – the Speed Glove.
Featuring an updated design structure, with a choice of subtle colouring or more exuberant graphics, there is a glove here to suit everyone. The 100% aramid fabric allows total comfort with exterior seams, and a new elastic band on the wrist for optimum fit. The artwork on the back of the glove has been fully re-engineered using a new printing technology which reduces stiffness and increases longevity. The durable grip area on the palm of the glove is made from silicon and has been updated for the Speed glove to increase driver comfort, control and freedom of movement.
This glove also complies with the latest FIA 8856-2018 homologation.
In line with the P1 Advanced Racewear bespoke race suit and underwear service, as an optional extra, we can arrange for customisation of these gloves with YOUR logo printed on the cuff, please note this service carries additional lead time, call or email us for pricing and availability.